"In my two decades as Commissioner, I have seen our sport take important strides forward on this essential issue. As we strive to fulfill our social responsibilities, the national pastime will continue to protect our natural resources for future generations of baseball fans and to set an example of which they can be proud."
—Former MLB Commissioner Allan H. (Bud) Selig
Did you know that the U.S. Department of State's Bureau of Educational and Cultural Affairs (ECA) taps into the power of sport to protect our environment?
In 2013, the U.S. Department of State's heightened emphasis on the environment as a foreign policy priority spurred ECA's Sports Diplomacy Division to explore its role in conserving our global natural habitat. Since then, ECA has used sports to highlight environmental issues with a focus on target audiences around the world—youth and emerging leaders in the sports sector. Through a number of international efficiency-themed inbound and outbound sports exchanges, the Sports Diplomacy Division has entered the "greening game."

In 2014, Brazilian soccer sports visitors took part in recycling workshops at an Earth Day festival under the Empowering Women and Girls through Sports Initiative.
Photo Credit: University of Tennessee Center for Sport, Peace, and Society

In 2013, U.S. Department of State Track and Field envoys supported coastal clean-up activities with U.S. Mission Fiji.
Photo Credit: U.S. Embassy Suva
The sports and conservation movement's growing prevalence worldwide led ECA to define a new set of goals under the "Sports and Sustainability Initiative."
Among these objectives are the Global Green Races, group runs designed by U.S. Embassies and Consulates to encourage the local community and Embassy staff—Americans included—to recycle, plant trees, run and bike to work, and eat locally-produced food throughout the year. Since 2009, U.S. Embassies and Consulates around the world—including those in Benin, Colombia, Mexico, Nicaragua, and Saudi Arabia—have organized these low-eco footprint Green Races.
As our first-ever U.S. Department of State Endurance Envoy in 2016, Dean Karnazes ran an Ultra Marathon along the Silk Road to promote healthy lifestyles and enhance cooperation between the people of Uzbekistan, Kazakhstan, and Kyrgyzstan. One of Dean Karnazes's priority causes is the environment and he has committed to building messages of recycling and eco-stewardship in future Global Green Race envoy programs.

Endurance Envoy Dean Karnazes high-fives young fans during the U.S. Department of State Silk Road Ultramarathon.
Our first-ever Triathlon Envoy, Barry Siff, USA Triathlon President, went to Benin to lead U.S. Embassy Cotonou's 2016 "Tri for the Planet" in promotion of water sanitation and clean air. He has also expressed his commitment to other envoy programs focused on stewarding the environment.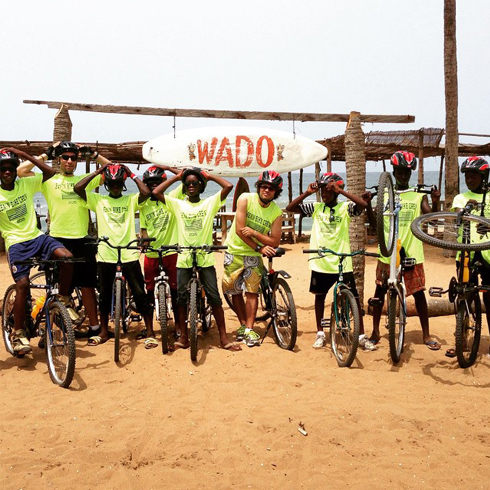 U.S. Embassy Cotonou's Bike for the Planet 2015 in Benin
ECA will continue to incorporate educational activities on the importance of clean air, water, and fields as well as sessions on reusing sports equipment and water bottles in its sports programs. The Sports Diplomacy Division will collaborate with the U.S. Department of State's EcoDiplomacy office on special Earth Day, Bike to Work Day, and other projects that illustrate how stewardship of the environment can help an athlete and his or her community thrive.
Sport has the power to magnify messages on sustainability and environmental stewardship by transcending political, cultural, and socioeconomic barriers from the grassroots to the mega-event level. Through cooperation with U.S. Embassies and Consulates worldwide, the White House, U.S. Government agencies, and sports leagues and federations, ECA demonstrates a commitment to environmental conservation through sports.

U.S. Department of State Eco-Envoys Ovie Mughelli of the NFL and Pat LaFontaine of the NHL supported Earth Day activities at the State Department. ECA's Australian Aboriginal Runners took part in a "Run and Recycle" drill with Ovie Mughelli.