Christopher Fonzone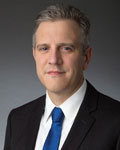 Christopher Fonzone
Member
Christopher Fonzone was appointed to the J. William Fulbright Foreign Scholarship Board in 2017.
Christopher Fonzone is a partner in the Washington, D.C., office of Sidley Austin, with a practice focusing on a range of issues related to information technology and cybersecurity, the management of crisis situations, and other national security-related issues.
Prior to starting at Sidley, Fonzone served as Deputy Assistant to the President, Deputy Counsel to the President, and National Security Council (NSC) Legal Adviser. In that role, Fonzone was responsible for providing legal advice to the NSC staff and other White House officials on a range of legal matters and for coordinating the development of Executive Branch national security and foreign policy legal positions.
Prior to his time at the White House, Fonzone worked at the Department of Justice in the Office of Legal Counsel and on the Civil Division's Appellate Staff; served as Special Counsel to the General Counsel of the Department of Defense; and clerked for Justice Stephen Breyer of the United States Supreme Court and Judge J. Harvie Wilkinson III of the United States Court of Appeals for the Fourth Circuit.
Chris has lectured and taught classes on national security law at a variety of law schools, and his writing on national security topics has appeared in various forums. Prior to his legal career, Fonzone worked as a Principal for Novantas, a management consultancy that advises financial institutions around the world. Fonzone received a Bachelor of Arts degree from Cornell University and a Juris Doctor degree from Harvard Law School, where he chaired the Articles Committee of the Harvard Law Review.